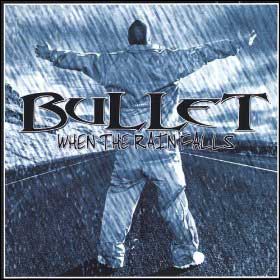 Bullet is a gifted artist featuring strong word play, and delivery. Bullet makes entertaining seam effortless as he dazzles fans with his grooven, and moven release "When The Rain Falls". The music is felt as well as heard, intense, and real nice in all aspects. "When The Rain Falls" is mandatory listening for those who want to be entertained, and satisfied. When The Rain Falls doesn't have the feel of a underground album, but rather, it has the appeal of a commercial release, one in which its manufacturers took the time to ensure everything was fine tuned, well polished, and of top quality. Each piece of the puzzle is fitted perfectly to ensure "When The Rain Falls" will be a keystone component of any fans collection. Each and every song flows wonderfully into the next one. From start to finish "When The Rain Falls" offers an assortment of hot tracks that feature both strong lyrics, and entertaining, head nodding beats. Each song has a "radio", "club", and mass crowd appeal. The most notable tracks featured are "I Don't Really Know", "I", and "All I Know". "Sexy Thing" seams to be the most boasted track on "When The Rain Falls" as it offers an instrumental and vocal version of the track. "Sexy Thing" is a notable track that is definitely felt, and makes an excellent club play track as it has a lot of groove, bounce, and sexy appeal. Bullets lyrics throughout this release have a penetrating effect on fans, as they are deeply felt as well as heard. Guest appearances are many, and each contributes positively with their performance, and contributions. Track number nine, entitled The Global Network, is an interesting track that is unique. It's well put together and features thirty-one rappers, which is a milestone to achieve. The packaging of the release is top quality providing a visually marketable appeal to the release. The artwork is symbolic, and as refreshing as the music. The jacket is informative, and fans can see for themselves that Bullet has other releases to be heard.
Some critics will critique this release for not offering more songs, and for the bonus tracks. The bonus tracks appeal to DJ's or individuals that like to remix tracks; however, some fans will say that takes away from the loop-ability of the release. How many fans want to listen to a Accapella? There is only one accapella track on the release, and it is at the end. The release could be longer in terms of songs; however, every song is high quality, and hot. There are never any dips in the music featured on "When The Rain Falls"; therefore, no matter what is spent on this release, fans are getting pure heat unlike some albums that you purchase where there are only 1 or 2 good songs, and a bunch of filler material.
Bullet is a seasoned veteran, and it's evident with "When The Rain Falls". Eastside Muzik Inc. does a masterful job with this release. The music is continuously hot, and satisfying. There are no disappointments; this release is a fan favorite.
Track Listing
01. Sexy Thing (ft. Dante Thomas)
02. When The Rain Falls
03. Work It (ft. Baby Bash, Mikel Knight, Dante Thomas)
04. I Don't Really Know
05. I
06. Won't Be Home Tonight (ft. Jazz)
07. All I Know (ft. Jazz)
Bonus Tracks
08. Changes (Bill Yuns ft. Bullet & Tiffany Wilson)
09. The Global Network (ft. 31 Rappers)
10. Sexy Thing (Instrumental)
11. Sexy Thing (Accapella)
Related Posts