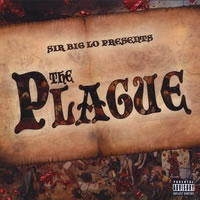 The Plague is an exceptional album featuring thirteen stunning tracks that are sure to keep decks bumping loud as the illness is remedied by continuous play. The beats are explosive rattling ear drums like fire crackers point blank. The lyrics are intense burning imprints on minds like branding rods to flesh. Realism and knowledge is delivered effortless with ever flowing cascades of fresh rhymes and cuts. Creativity is found in every facet of this masterpiece that dazzles and inspires fans worldwide. The Plague is a keystone release fans need to recognize and put in heavy rotation. All of the tracks featured on The Plague are powerful and notable. There is no weak material plaguing this release. There is always a leader in the pack and "More Like" featuring Tommy 2 Face and Inferno hits the hardest. The beat is pure flow and complements the perfectly spit lyrics extremely well. The words are comparatively metaphoric and descriptive. The lyrics through-out this release are intellectual, well written and deep. Listening through each song laid is like passing through the pages of a captivating book. Deep references and knowledge run abundant to enlighten; however, fans never feel any dullness in the music. The whole album is pure entertainment, always tight. All of the beats complement the ever flowing lyrics extremely well, like both were forged in complete unison. Being impressed is easy as Big Lo comes out the gates like a well seasoned veteran of the arts. The contributions by notable guest appearances such as Tonedeff, Inferno and Beretta 9 are nothing but positive elements and even more the reason to check this release.
"Lady Samantha" and "Goodbye" are conceptual tracks that deserve spotlight recognition. Fans can relate with and reflect upon the subject matter in these tracks as the messages are fine tuned and hard hitting. Big Lo translates everyday life into interesting rhymes like a great journalist captures every detail of a real story to draw out emotions, making readers feel each word. "Lady Samantha" is a serious track that intertwines powerful dialog with deep lyrics and strong emotion to convey a serious message. This is a highlight track that speaks loud. "Goodbye" is a track on the lighter side featuring some crazy captivating sounds, creative dialogs and contagious rhythms. The lyrics are well written, delivered perfectly and easy to relate to. "Piracy" is another conceptual track to note that delivers a powerful message. Big Lo has an exceptional talent for conveying meaning and realism in his words. This is music that is felt. It's always worth a listen when an artist performs and speaks from their heart to contribute real music that speaks volumes as oppose to typical tracks about girls, Hennessey and cash (although even these tracks have their place in hip hop).
Big Lo has exceptional vocal delivery, flow and outstanding emotional prominence in his rhymes. It's clear that each song is well thought out and meets a harsh quality standard. I'm sure Big Lo doesn't follow ISO standards but it ain't hard to tell he cares about dropping nothing but quality to fans. Big Lo's other strong asset is his ability to grasp real life situations and concepts in his rhymes. It's hard for most artists to write a song and get the story and, or meaning locked down perfectly; whereas, Big Lo never disappoints, always on point. Each and every line spit strongly and tightly connects to create a masterpiece. Big Lo, in addition to being an extraordinary lyricist, is a profoundly talented producer. The Plague in its entirety was produced and mixed by Big Lo. Big Lo is diversely talented and deserves a monolithic proportion of recognition for the exceptional production. Ryan Foster of Freq mastering deserves recognition likewise for the exceptional mastering.
The album cover is well put together and the design concept meets the music. The more fans listen to the songs featured on The Plague the clearer the overall message becomes and the clearer the match between the presentation and product. The Plague is a professional release with great sound quality, interesting cuts and professional mastering. This is a serious release offering up thirteen scrumptious tracks.
This is an album that is strongly recommended and should be placed in heavy rotation until the disc wears thin. Fans should expect to receive knowledge, enlightenment and pure entertainment when listening to The Plague. Except to feel the music and have your hunger satisfied for something well worth multiple listens. Be sure to follow Big Lo on Twitter and check another exceptional Big Lo release, MindState : Freedom.
Track Listing:
01) First Priority (Plague Edition)
02) Piracy
03) Ain't Nicer Than Me
04) More Like(Red Army Remix) Feat. Tommy 2 Face and Inferno
05) Watch His Move Feat. Inferno
06) Bump In The Night Feat. Tonedef
07) Fast On The Hog Feat. GOD of Pitch Black
08) How We Do Feat. Beretta 9 of Killarmy
09) Good Music (Remix)
10) Same Difference Feat. R.e.a.l.i.t.y
11) Lady Samantha (Remix)
12) The Dawn of Armageddon Feat. Inferno (Darkness Edition)
13) Goodbye (Remix)
Related Posts