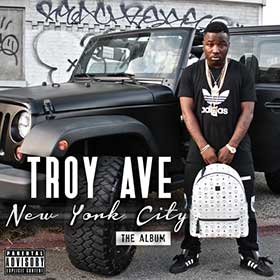 Troy Ave is extremely talented and brings heat with the album New York City. This buffet featuring seventeen (17) delicious hip-hop tracks will satisfy the hungriest fans. The music flows incredible with smooth lyrics and tantalizing beats that penetrate. The lyrics are well delivered with perfect flow, hold meaning and are easy to contemplate. This isn't science class but no doubt school is in session. Troy Ave: New York City: The Album is heat and definitely a piece hip-hop fans need to tune into.
For every music enthusiast it seems now more than ever that the existence of New York rap influence is in question. The album Troy Ave: New York City is an answer to all the questions that has ever popped up on this category. The title of the album has been appropriately named and the project is collaboration and a celebration of everything about New York. Hip-Hop fans can tune in and travel deep into the mix. The album embodies the Big Apple on the reals and is created to give all New Yorkers something to relate with and share their pride.
The production of the album closely replicates the early 90s New York hip hop, Troy Ave has made sure that he gives his fans more of what they love about the artist who is running the rap game with hot music. Troy Ave replicates the in the club experience with the Album and the track "Show Me Love". This track is pure heat and one of the best featured on this release. It's the type of track that is chill with cool vibes that could captivate fans on loop for many hours.
When it comes to his music, Troy Ave's lyrics are not complicated or complex by any means but on the contrary are easy to understand. Hip-Hop fans can easily understand and relate to the music in his tracks. Unlike some other rap and hip hop artists who combine unrelated punch lines in their music or over verbose bars, Troy Ave tries to stay away from one-liners and does fine work at keeping his musical content closely entwined like grape vines. Each line combines perfectly with the next. In the track "Cigar Smoke", another cool and chill track, Troy Ave represents and conveys a strong message that spans across the entire album in theme. A stellar track for fans to sink into and digest.
The musical features and guest appearances on the New York City are limited and are no doubt properly handled. Out of the entire seventeen (17) tracks on the project only a few have other artists appearing which makes a positive contribution while keeping it about Troy Ave's music. Sometimes artists water down their projects with more cameos than their own contributions but no doubt this piece represents lovely. The album Troy Ave – New York City is not just a hot hip hop album for the New York, big city and worldwide hip-hop fans but is a great hip-hop album in general that fans should spin loud. Troy Ave demonstrates his versatility across the entire New York City Album, never moving away from the content. His music is unique and always fresh never being labeled as a formula or robotic based artist which is no doubt an issue among some hip hop industry artists that always sound the same with cookie cutter lyrics, beats and tracks.
The New York City Album by Troy Ave is rated 4.7 out of 5 stars on Amazon.com by the good word of the all mighty rap and hip hop fans that recognize and it has been getting great reviews from music fans showing love. The fans of Troy Ave seem to feel that the tracks in general remind them of the good old East Coast rap and the album is an attempt to make New York rappers recognize New York again in its truest sense of the scene. Remember that? No doubt triple phat.
Troy Ave's fans seem to feel that this is the best album from him and an exceptional release for 2013 since the music, lyrics, beats and songs are heat. It would be one of the world's greatest challenges to find something for critics to critique in the New York City album. Troy Ave's overall personality, heart and witnesses are present and ingrained across the entire album and even though he remains on the level and doesn't come off as a lyrical super scientist he's not to be disrespected or under reflected when it comes to delivering incredible lyrics in each track. Fans that have been disappointed with the hip hop music served up and what happened to New York rap music in general now have something to praise. Tune into this fresh release and get hype.
With seventeen (17) solid tracks, non-complex lyrics that convey meaningful and easy to understand content, amazing hip-hop music, phat beats and production and a true New York essence ingrained into the mix the album New York City by Troy Ave has something for every hungry rap and hip hop music fan. So, if you are thinking about buying this album for your collection then definitely make the moves because most fans who have bought it have loved it. Some fans may definitely label this release as a classic and keystone piece to their collection. We deem it mandatory listening material that fans worldwide should not sleep on. Check it!
Related Posts