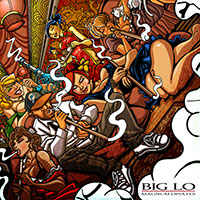 Representing Florida Big Lo drops another knock out release with his fourth album Magnum Opiates. The tracks on this album are stacked with tight rhymes and banging beats that nod heads and captivate minds with vivid imagery and stories. Magnum Opiates is thirteen tracks deep featuring a cinematic-like feel as words drop like real clips to unfold a story that at times is dark but always deep. Like most of Big Lo's music and other albums the songs are packed with realism, knowledge, witty lyrics, and hard hitting beats. There's no filler content on this album as each and every song is notably dope. The many talented guest appearances contribute positively and enhance the album overall. Magnum Opiates is a hot new hip hop release that is sure to get mad play.
Big Lo has incredible flow and on this release he's always on point with his lyrics. Fans are absent of ill thought and always dazzled with the way Big Lo drops it. The strongest point to Magnum Opiates is that the music is charged with realism and lyrics that get minds open. When fans listen to the music on this album they are taken into an incredible journey that is never dull and always interesting. Like with his prior album, MindState: Freedom, each track contains meaningful and thought provoking lyrics. The music on this release is absent of meaningless banter of richness, fame and living a Hugh Hefner lifestyle. Some of the lyrical content is explicit and may express subject matter that's mature such as drug use, sexual episodes, and violence but it's always conveyed with deep insight, knowledge and thought provoking rhymes to illustrate meaning. Another high note is that each track is notable and well meshed with its predecessor and successor track, thus, this album is loop worthy and will not have fans reaching for the skip button during play. There are also a number of audio samples used between songs that add to the cinematic atmosphere of Magnum Opiates. Some critics may critique the use of audio samples but they add to the albums overall vibe and enhance it; rather than, detract. There are no overused and overplayed samples or flow breaking interludes disrupting the flow.
The best track on this album is "Scat" featuring Ivy and its mandatory listening material. The beat is incredibly fresh and captivating and Big Lo's tight lyrics ride the beat in pure harmony. "Scat" is the type of song fans could repeat 20x over and still hit rewind to hear it again. The audio samples in the beginning and end of this track and Ivy representing the chorus lovely give it additional flavor. Other highly notable tracks include "Inception", "Watch His Move (Magnum Redux)" feat. Inferno, "More Like 2.0" feat. Stess the Emcee, Mel Funk & Junky Goods and "Blood Shot Red" feat. Junky Goods. These are some of the tightest tracks but each and every song is tight and deserves recognition. There are no weak songs on this album which is a rarity and another strong point to this album. "Proud American" deserves special recognition. It's an intense, powerful and deep song loaded with realism that many fans will relate to and feel. This track contains some perfectly laid audio samples and some definite quotable lines to reflect upon. Who needs drugs when you got music with lines this dope? Listen and get high, no doubt.
The production and sound quality holds a high standard and is exceptional. The album artwork is creative and well represents the music. The beats are incredible and hard hitting. Like one of Big Lo's prior releases, The Plague, the beats and production ensure the music is felt and not just heard. The contributions by Ivy, Inferno, Stess the Emcee, Mel Funk & Junky Goods, J. Sands, Tommy 2 Face & Chelsae Davis, and 14th Century positively impact Magnum Opiates with tight contributions. Hip Hop fans will particularly love the smooth and captivating contributions by Ivy and Chelsae Davis. Some of these tracks like "Scat" or "Inception" would make fantastic remix candidates. It would be real tight to see Celpth Titled or J.J. Brown do a remix to these tracks.
Magnum Opiates is an incredible album that commands undivided listening attention and is mandatory listening for every hip hop fan. Big Lo delivers an album that features thirteen of the tightest tracks most fans have yet to hear. This is definitely an album absent of any disappointment and worth tuning into. No doubt Magnum Opiates will become a sure shot fan favorite and get much play and love from the global hip hop community.
Track Listing:
1. Salome Den of Iniquity feat. Ivy
2. Welcome to My World feat. Inferno
3. Inception
4. Watch His Move (Magnum Redux) feat. Inferno
5. More Like 2.0 feat. Stess the Emcee, Mel Funk & Junky Goods
6. Double Shot Chronicles: Act 1 feat. Inferno
7. Peace Is for Buddhists feat. Inferno
8. Snatch 2.0
9. Scat feat. Ivy
10. Round the World Girl feat. J. Sands, Tommy 2 Face & Chelsae Davis
11. Blood Shot Red feat. Junky Goods
12. Parlor Music feat. 14th Century
13. Proud American
Related Posts