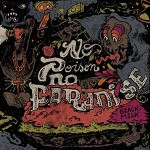 The fresh new release presented by Black Milk titled No Poison No Paradise is one of the leading hip-hop albums of the year. The No Poison No Paradise album features thirteen official tracks by Black Milk who happens to be a Detroit producer and emcee. The Album can be seen as an autobiography of Black Milk who has been portrayed as a good kid who had endure lives hard lessons growing up. He spits with passion and explains how tough it was growing up in a Christian background but having to find a balance between good and evil in his day to day life. There is passion intertwined within his lyrics as he spits the trials and tribulations of life. Black Milk eventually succumbs and strays from his strict Christian upbringing due to peer pressure.
When fans are listening to No Poison No Paradise by Black Milk they are able to understand the pains that are involved in being an adolescent all the way to adulthood. The music is felt and reaches deep within fans to turn on emotion like it was a radiator dial. He clearly explains how the means of survival are minimal and how the same means are the ones that shape your life during the trying times. The tracks featured on this release deliver a classic example of wanting things to happen fast, wanting to see results fast but life does not work that way. Some fans could class No Poison No Paradise as a book of lessons offered through incredible lyrics and backed by dazzling beats. "Ghetto Demf (Feat. Quelle Chris)" is a deep song that is one of the best and most insightful on this hip hop album. The style of rhyme and sharpness of the lyrics penetrate deep.
Through No Poison No Paradise by Black Milk fans are able to get a glimpse as of how his life was as he was growing up and all that he had to face down in order to reach where he is today. He has managed to achieve much even though he had to overcome a lot of difficulties as a teenager. The underlining message in the music is something many hip-hop fans can relate with and understand. This makes the album a greater and more worthwhile listen.
When fans listen to his album and the tracks in sequence they can easily tell that Black Milk, No Poison No Paradise paints the harsh reality of life. Fans are able to see how they struggle each in their own ways, how much they have to do in order to achieve something just to prove to their peoples and crew that they can do it. It is very clear that peer pressure is very real and is a very huge factor in Black Milk's upbringing but what is most daunting, is when he speaks about the loss of a friend in "Perfected Our Puritan Ave" called "Mann". It is very clear that his passing changes everything around the block that he used to live – the block was never the same. His lyrics are heat on this track and penetrate minds deep with emotion and realism.
The Black Milk , No Poison No Paradise album really pulls at you as it seems to be a very emotional autobiography of Black Milk as he re-lives his younger days. The tracks are all good and well delivered with lyrical prowess and flow. He has managed to spit his lyrics on another level and makes the listener identify with whatever he is feeling – a rarity. The album is a symbol of creativity and storytelling at the highest level.
The best tracks on this album are Ghetto Demf (Feat. Quelle Chris), Perfected Our Puritan Ave and Money Bags (Paradise). The least appreciated track on this album is titled Sonny Jr. (Dreams) (feat. Robert Glasper & Dwele) because it breaks up the flow of music like an interlude. All of the songs are top notch and there are no disappointments on No Poison No Paradise. Overall, all the music is tight. Some critics may critique the albums length as it could be longer but adding additional tracks may detract from the overall content and story told. The cameo appearances add positively to the music featured on this album. The beats and production are top notch. Furthermore, even the album artwork is creative, impressive and engaging. Sometimes albums are released and certain pieces lack but No Poison No Paradise is the complete package with careful consideration put into all aspects.
This hip hop album ranks very high in most editors reviews from other sources and fans. It is definitely a hot album featuring some great songs that should be spun in heavy rotation. The music is deep and meaningful, the production is top notch and the bests are hot. No Poison No Paradise by Black Milk will be able to reach out to all the hip hop fans and fanatics as well as those who love to listen to music on another level with rich meaning and valuable lessons. Grab a copy and recognize.
---
–> Buy No Poison No Paradise by Black Milk
<–
---
Track Listing:
1. Interpret Sabotage (feat. Mel)
2. Deion's House
3. Codes and Cab Fare (feat. Black Thought)
4. Ghetto Demf (Feat. Quelle Chris)
5. Sonny Jr. (Dreams) (feat. Robert Glasper & Dwele)
6. Sunday's Best
7. Monday's Worst
8. Perfected on Puritan Ave.
9. Dismal
10. Parallels (feat. Ab)
11. X Chords
12. Black Sabbath (feat. Tone Trezure)
13. Money Bags (Paradise)
Related Posts