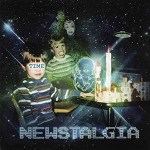 Newstalgia is a hot new hip hop album delivered by the artist Time. The album is an autobiographical journey told by creative stories that relate to family, politics, history, death and video games. Basically the musical content deals with life events and reality. Time's ability to deliver emotion and meaning through his words and rhymes is incredible and one of his top talents. Each and every track presented on Newstalgia is deep in substance and has great depth but laced with words and lines that fans can easily relate with and understand.
The music featured on Newstalgia by Time is refreshing because Time isn't claiming street clout, womanizing tendencies, or an addiction to money or bling but instead he is promoting lessons learned in living and everyday life. There is no overly verbose or gimmick ridden lyrical content in Time's music that tests the mind, this is spitten it straight up 101. This album isn't just stacked with music that dazzles fans with hip hop richness but its ultra cool vibe is loaded with mental nourishment. The music makes listeners feel happy and pleasant – it's a good vibration.
So what's Time sound like on the microphone?
Drawing comparisons between artists is tough because each artist is unique but Time is similar in his own way to Asher Roth and Mac Lethal in some regards. Time has an incredible art for telling interesting and captivating stories through his rhymes like Mac Lethal. He is fresh with his word play and entertaining like Asher. Fans of either artist should thoroughly enjoy the music and rhymes Time drops. It would be a crazy mix if all three of these artists did a collaboration track – one can only wish. In addition to his supreme story telling abilities Time has incredible delivery and flow. When listening to Time spit lyrics its clear he is passionate and has some seasoning behind him.
The best tracks featured on this hip hop album include Lay-ups, Newstalgia, No More Bad Dreams and Shout to the Voiceless. All of the songs featured are hot and bring the heat. The album is loop worthy and the fans can spin it more than once without getting bored. There is no filler music on this album that includes nineteen (19) hip hop songs by Time. Furthermore special recognition needs to be given to Swag Through the Gift Shop because it's also an infectious track with a real chill beat – it gets fans open. It features Kit Richardson who contributes more than spectacularly to the music and for real, off the hook. The chorus is as equally infectious as the beat. Lay-ups has a positive and upbeat vibe that is fresh and fun. The story behind the music is easy to relate with and interesting. No More Bad Dreams has a Jay-Z kind of vibe to it. When listening to Time spit on this track it's easy to think of Jay-Z dropping in to ride the beat to make it a collab. Definitely a track with some bounce and swagger but laced with positive lyrics and some exceptional rhymes by Time. Shout for the Voiceless is pure heat featuring an incredible beat and powerful lyrics that penetrate. It's got a contagious vibe that shakes the soul.
The cameos and guest appearances on the tracks contribute greatly to the music. The female vocals in tracks like Newstalgia compliment Time's lyrics perfectly and aid in conveying emotion to reach fans on a different level. One of the greatest highlights of this album is that the music is not only heard but it's also felt.
The beats and production are incredible through-out this hip hop album and every song. The beats flow in harmony with Time's lyrics and together make a huge statement — Time is heat. The beats and tracks flow harmoniously into the next giving the album an overall unified vibe. There are albums that sound like a mix and mash of this and that, but Newstalgia by Time has a theme and the beats and production bring that together in a unified focus. Makes the release more enjoyable to listen to and play.
Whatz the Final Words on Newstalgia by Time?
Time's hot release Newstalgia is an incredible hip hop album that fans must check out because it features nineteen of the best tracks you probably haven't heard.  The music features exceptional beats, tight production, entertaining and meaningful vocals by Time and very good cameo appearances by other talented artists like Kit Richardson. Definitely check out Newstalgia by Time and play it in heavy rotation.
---
–> Buy Newstalgia by Time
 <–
---
Tracklist for Newstalgia:
1. Newstalgia (ft. Katie Gold / Prod. Akira the Don & Torley)
2. Auto Bio (Prod. Budo)
3. Swag Through the Gift Shop (ft. Kit Richardson / Prod. Giuseppe)
4. 5th Horseman (ft. K. Raydio & Lonnie "Pops" Lynn / Prod. Tall City)
5. Shout for the Voiceless (ft. Maudlin Magpie / Prod. Satyre)
6. Cardboard Gods (ft. Giuseppe / Prod. Jake One)
7. 8 Bit Memories (ft. Xiu Xiu / Prod. Giuseppe)
8. Lay-ups (Prod. Man Mantis)
9. Black and Gold (Prod. Factor)
10. Love in the Time of Rap (ft. Chloe O'Neal / Prod. Man Mantis)
11. They Call Us the Irish (w/ Ron Miles / Prod. Time)
12. Nona (ft. Ceschi / Prod. Satyre)
13. Brittle Action Figures (w/ Chris Barron / Prod. IG88)
14. Break the State (Prod. Satyre)
15. Writer's Shot (ft. Jason Horodyski / Prod. Ephelant)
16. October 31st 1990 Something (Prod. Doctype)
17. No More Bad Dreams (Prod. Ephelant)
18. This is Not an Exit (ft. Jason Horodyski / Prod. A Thousand Vows)
19. Death Bed (ft. Church Fire / Prod. Ephelant)
Related Posts