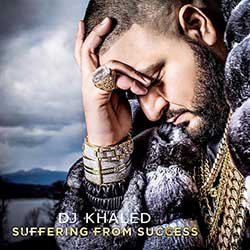 If the name of DJ Khaled's seventh full-length album, "Suffering From Success", seems outlandish and self-congratulatory, perhaps some background will help. In an interview with MTV, the producer/rapper revealed that he went through a health scare in 2012 after he noticed a bald spot in his trademark beard was getting bigger. During a visit to the doctor, she actually told him that the issue was related to his always-packed schedule. Her exact words were "Son you're suffering from success." With his album title handed to him via a doctor's diagnosis, Khaled was ready to get to work. So he rounded up his usual cast of rap superstars and hit the studio. The result: 16 new tracks that some critics may critique as unimpressive because they're based on a blueprint he's used far too many times.
"Suffering From Success" follows the lead of his previous two records from 2011 and 2012, "We The Best Forever" and "Kiss The Ring", respectively. And just like "Kiss The Ring," this album attempts to recapture the moments of mainstream rap brilliance heard on "We The Best Forever." You might not be a fan of, say, Drake, Rick Ross, and Lil Wayne, "I'm On One" was huge for two very good reasons: The beat and chorus were infectious. In an attempt to replicate that track, Khaled enlisted the same three MCs for the half-cooked "No New Friends," though it does get better with repeated listens.
Additionally, Khaled found it necessary to appear as a vocalist more often on this release. But are his rapping bits necessary? Eh, not entirely. For example, there's the laughable portion of "You Don't Want These Problems" wherein Khaled plays his own hypeman on an otherwise mindlessly fun posse cut. There are, perhaps, too many guests to name on this track considering 2 Chainz, Ace Hood, Meek Mill, French Montana, Rick Ross, Big Sean and Timbaland all appear. While that seems absurd, and it is, that bloated approach is what makes it so enjoyable. It sounds like an event, much like "I Wanna Be With You" and "Never Surrender," the latter of which is notable for its Scarface feature alone.
But when "Suffering From Success" finally wraps up, it just feels like DJ Khaled is uninspired. It could be that he is simply way too busy these days to focus on how he can better his own product or diversify his music for the fans. And it's not just his health that's suffering, but his actual output because he never stops promoting himself and trying to stir a media buzz. Just last month he brought out a film crew to get footage of him shooting hoops and betting thousands of dollars against Rick Ross, Meek Mill, and French Montana. This can be seen as a leisure activity by some, but Khaled's actually making it stressful for himself by trying to create a viral video during his downtime. Yes, its all in fun and done in the name of promotion but are fans really interested? You have to imagine he could benefit from doing something more relaxing, like heading over to https://bingo.betfair.com/, where can gamble all he wants without making it an event or spectacle. It'd be a good look for Khaled, too, because he'd probably have more luck playing, say, online bingo as opposed to trying his hand at basketball contests. Plus, he can play at his leisure in between studio sessions, which is less intrusive and requires less coordination than heading onto the court with his crew for a game of basketball.
DJ Khaled just needs to focus on making hot music for hungry hip hop fans world wide, and then maybe he will actually be inspired to diversify and bring more creativity in some of his tracks. He definitely needs to find new artists to work with on his tracks or, at least, stop working with all of the same people time and time again. This is not to say that familiar guests shouldn't make appearances or collaborate but new artists with different vibes should definitely drop it on a track or two. If not, the music will continue to sound like he is suffering more from rehashed formulas or the same vibe than anything else. DJ Khaled is extremely talented and he has brought many excellent tracks to fans, thus, check out Suffering From Success because its worth a listen and does contain some good material.
Track / Song listing:
1. Obama (Winning More Interlude)
2. Suffering From Success (Feat. Future & Ace Hood)
3. I Feel Like Pac/ I Feel Like Biggie (Feat. Diddy, Meek Mill, Rick Ross, T.I. & Swizz Beatz)
4. You Don't Want These Problems (Feat. 2 Chainz, Ace Hood, Meek Mill, French Montana, Rick Ross, Big Sean & Timbaland)
5. Blackball (Feat. Future, Ace Hood & Plies)
6. No Motive (Feat. Lil' Wayne)
7. I'm Still (Feat. Chris Brown, Ace Hood, Wiz Khalifa & Wale)
8. I Wanna Be With You (Feat. Nicki Minaj, Rick Ross & Future)
9. No New Friends (Feat. Drake, Rick Ross & Lil' Wayne)
10. Give It All To Me (Feat. Mavado & Nicki Minaj)
11. Hells Kitchen (Feat. J. Cole & Bas)
12. Never Surrender (Feat. Akon, Anthony Hamilton, Jadakiss, John Legend, Meek Mill & Scarface)
13. Murcielago (Doors Go Up) (Feat. Birdman & Meek Mill)
14. Black Ghost (Feat. Vado)
15. Take That Off (Feat. Vado, Jeremih)
16. Weed & Hennessy (Feat. Mavado)
17. Helen Keller (Feat. Kat Dahlia) (prod. by Arthur McArthur)*
18. At The Top (Feat. Mavado)*
*Deluxe edition only
Related Posts