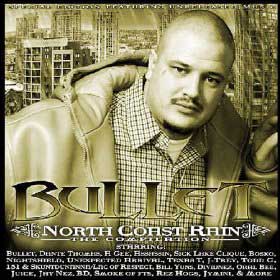 Featuring nineteen (19) high caliber tracks, North Coast Rain: The Compilation is a breath of fresh air to fans world wide. This compilation features music for everyone. Whether its R&B or West Coast bounce that gets you high, this compilation delivers it all with the mass appeal. Approximately seventy four minutes of the best music you need to hear.
The compilation stars talents such as Bullet, Dante Thomas, A Gee, Assassin, Sick Lake Clique, Bosko, Nightshield, Unexpected Arrival, Texas T, J-Trey, Todd G, 151 & Skuntdunanna,/Lac Of Respect, Bill Yuns, Dividenz, Oral Bee, Juice, Jay Nez, BD, Smoke of FTS, Rez Hogs, Jymini & More. With an array of artists of this caliber & talent it's hard not to release a compilation of this magnitude. The different artists mesh nicely to serve up a buffet of delightfully tasty morsels to more than satisfy the cravings of hungry fans world wide. J-trey serves up a gem with "Won't Take Long" which is also one of the best songs on their sophomore release, "Jaze Reign". The song is incredible. It identifies that this compilation has non-exclusive material featured on it. Some songs featured on this album may be found on other albums, and sources. This is good in the sense it gives fans a chance to listen to some material that most likely will send them to the store to purchase the artists solo project – the material is that good.
The most notable tracks featured on the album include "If You Know Like I Know", "Won't Take Long", "Straight M.O.B.", "First Site", "Thatz Gangsta", "Ur Body", and "What Went Wrong?". The best track featured on the album is "First Site". "First Site" is an amazingly tight track that features material that fans can easily relate to, and appreciate. The storyline lyrics are enthralling, captivating, and entertaining. The diversity of the music on this album overall is a strong point. "Heart of Mine" by Jay Nez packs an R&B vibe that Country music fans will love & appreciate. The aura of "What Went Wrong?" delivers fans into a nostalgic vibe. The Chorus in this track brings fans back to the past. "Ur Body" features a hot beat, and hot lyrics that are easy to relate to, and well received. "Be Your Girl (remix)" packs a hot Latin vibe that gets the crowd moving with ease. "Until I Fall" features some creativity with a news casters reporting theme to bring fans into the song. This leads to the next point; this album is equally as strong due to the creativity of the music, and artists.
The artwork and presentation of the album is well put together. Eastside Muzik Inc. deserves some respect for their efforts in putting together this release.
Overall this compilation, pound per pound, is exceptional. Fans will by dazzled continuously by the intense, creative, diverse, well written, impacting, beat blazing music. Featuring a plethora of super talents & super tracks this album will make tons of noise, satisfying fans world wide by delivering something so, so fresh. This album is a must buy.
Track Listing:
1. Mexico I Just Killed A Man (Bill Yuns)
2. If You Know like I Know (Todd G & Bosko)
3. Won't Take Long (J-Trey)
4. Uncapable (Bullet & Jazz)
5. Anything You Want (Nightshield & Tyshawn)
6. Straight M.O.B. (Bullet, Assasin & Jymini)
7. Heart Of mine (Jay Nez)
8. First Sight (Unexpected Arrival)
9. Shorty U Got (A-Gee aka Mikel Knight)
10. In Your Life (Mykle)
11. Let Me C U (Sick Lake Clique)
12. Nothin In Life (Bullet, Arjay & White Boy Will)
13. Be Your Girl (Bullet, Texas T & P.AZ.E.)
14. That'z Gangsta (Oral Bee)
15. G Spot (Smoke, BD, Benny B & Cashus)
16. Too Much (Bullet, Dividenz & Jazz)
17. Ur Body (Bullet, Dante Thomas & Rez Hogs)
18. What Went Wrong (151 & Skuntdunnana/Lac Of Respect)
19. Until I Fall (Juice)
Related Posts