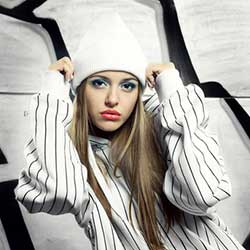 Everyone knows about hip hop music and hip hop bands but some people may not know the history behind hip hop music and that there is a different dress style to the hip hop culture over some other genres. And the people following the hip hop culture have their own fashion style that is known as hip hop fashion.
Let us take a sneak peek at the hip hop history and how it got originated before we talk about its fashion and related hip hop clothing.
Hip hop actually originated in 1970s in Bronx. The community that started this wonderful type of music was the African American community and as time passed it started spreading like wild fire in other ethnic communities around the world. The reason for its widespread popularity is the catchy music, foot tapping and head nodding beats associated to it. Although hip hop is normally associated to music there are many other aspects of the culture including dance, language and clothing style.
Hip hop brands are also known as urban brands or urban fashion. The evolution of this type of fashion brand can be attributed to hip hop artists wearing Adidas, Converse Chuck Taylors, track suites and leather bomber jackets. It basically complements the attitude, character and personalized expression of their feelings through songs.
Now there are entire clothing lines which have been dedicated to hip hop. Some have emerged as hot hip hop fashion brands and have achieved tremendous success as they have been able to create a massive appeal to the customers. There are some urban hip hop clothing brands which have failed due to many factors ranging from poor management to lack of promotional and marketing activities. Sometimes the hip hop fans simply don't connect with the brand or support it.
Let us look at some very famous hip hop brands and associated clothing lines that have made noise in the culture and created some buzz.
1)     Phat Farm was launched by one of the pioneering celebrity designers called Russell Simons in 1992. It has a mix of practicality and urban design of street clothing with a touch of preppy Ivy League culture. Definitely some very fresh hip hop styles and wear. 
2)     Rocawear came into existence in the year 1999 and immediately became a success in the urban fashion market. It has diversified into different sections like men's wear, kids wear etc., but the essence of the basic urban style never got lost. It was created and founded by Shawn Carter who was also known as Jay-Z, a fresh artist that never needs introduction. 
3)     There is a very interesting story behind the formation of Baby Phat. A runaway stage show was promoted by Phat Farm in 1998 to promote their new offerings and to spice up the event they arranged for the models to parade in tiny tees with the name Baby Phat embossed it. That name caught the attention of everyone present at that road show and very soon Baby Phat became a brand of its own. Kimore Lee Simmons was the reason for the success of the brand with the urban female consumers as she had the ability of combining high fashion with hip hop. Baby Phat clothing looks fabulous on females.
4)     Sean John, popularly known as Puff Daddy or P Daddy launched his clothing line in the year 1998. It has evolved along the years and has been creating trends in the urban fashion industry for both men and women of urban class. There are fresh Sean John socks, suites, ties and all kinds of clothing for those that like to be well dressed in stylish gear and attire.
 5)     Helly Hansen is one of the freshest nautical style clothing lines. Featuring some of the coolest looking jackets and outdoor wear that has graced rappers in many hip hop videos this gear is well established and recognized for its freshness. Although this is a clothing line that is really designed for sea barring men and outdoor enthusiasts, it's been adopted by many hip hop fans and artists as their gear of choice.
There is a long list of fashion brands and they have all been successful at one point of time and have been contributing to the evolution for the very famous hip hop brand of fashion or the urban fashion.
Isn't it surprising to know that some of the gear and clothing that we buy and wear thinking that it is just the regular fashion or normal wear has got such a rich cultural history backing it up? Suddenly there is a sense of pride which fills us when we know that we are the torch bearer of this wonderful sexy style of dressing in the fashion industry. Not only is hop hop fashion simple but it is also unique, trendy and comfortable to sport. Check your favorite brand, try out the gear and you can be a part of the hot hip hop fashion culture.
---
Related Posts