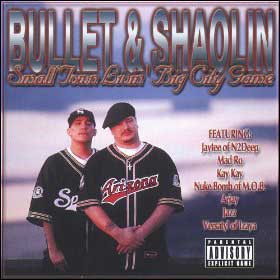 Bullet is an exceptional artist. He delivers intense, well written rhymes that easily appease fans. "Small Town Livin' Big City Game" is a magnificent album that delivers fans some incredible west coast rider style music. The sixteen gems on the album make it a must have for any fan looking for something real fresh. This review is based on the 2004 Special Edition version that features unreleased music; not to be confused with the original version.
The album sets off with "Let Me Ride" featuring Mad Ro. Mad Ro's contribution is outstanding on this track. The track is not only packing an incredibly hot beat, and some of the best lyrics you've never heard, but it's an exceptional way to start off an album. It takes listeners right into the intensity of the music – no bullshit. The album continues with "Ride Wit Us". "Ride Wit Us" is a smoldering hot track featuring some well written, intense lyrics laid over an ear popping super-nova of a beat. Heads easily bounce to every ounce of music served up in this joint. "I Want You" is the third track served up. It's a groovy track with a sic style of its own right. The beat is tight, as well as the lyrics. There are no disappointments. A plethora of gems continue to glitter through the album as the music continues forward. No mistake, the music is hot.
The most notable tracks featured on the album include "Let Me Ride", "Ride Wit Us", "Wild, Wild, Westside", "Eastside Riderz II", "For The World", and "Top Notch H**". All of these songs stand out as gems that need to be played in heavy rotation. Any one of these songs is a chart topper. The best track is "Wild, Wild, Westside". This song needs to be on vinyl. It is backed by one of the best, most uplifting, head nodding beats you need to hear. The lyrics are tightly delivered; the track is simply butter. The least notable track is "Who Gives A F***". It's a good track, but it falls a tad short amongst the rest of the gems that make this album shine so bright. Another very interesting track is "For So Long" featuring Arjay. This is a slick, smooth, low key song that is sure to touch its listeners deeply. It reminds fans of material they might hear from an artist like Usher. Arjay truly delivers on the same level & caliber, if not beyond what fans might expect from an Usher track. All of the guest performances on this album add to the overall impact of this hot release. Fans not only get a chance to discover the mega-talent of Bullet on this release, but they get to discover the talents of other hot artists that drop hot guest spots. This album features Baby Bush, Frost, Messy Marv, N2Deep, Assassin, Mad Ro, Shaolin, Todd G, Bill Yuns, Kay Kay, and Jazz. Another strong point to why the music is so great is because it's the type of music fans feel throughout there mind, body, and soul when listening. There is never a dull, or bland moment in what fans hear; its always moving & uplifting the whole way though.
The album artwork & presentation is well done. There are lots of visuals, lots of info on other Bullet releases, some contact & website info, and some track credits. Eastside Muzik Inc. did a fantastic job with the presentation.
Bullet is extremely talented, and the music featured on "Small Town Livin' Big City Game" is nothing short of impressive. Fans are easily appeased with the music, continuously being satisfied with each ear popping track. This is a tight release that is mandatory listening. This album needs to be purchased.
Related Posts